We are here for the study of Ordnance Survey maps old & new, how & why.
Find out who we are, what are our aims and who Charles Close was.

- About us

Here contains detail on joining the Society and renewing your membership.

- Join now

- Renew  

 

Find out what we're up to, and when and where the next meetings are.

Here for maps, covers and indexes, use as a reference for your research.

These our are books and monographs we've written, and the online shop.

And our Archive in the Cambridge University Library, details are below.
---
Recent Additions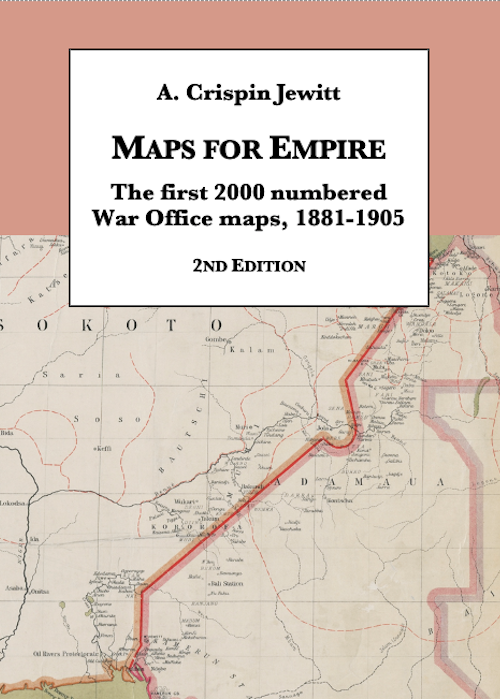 The Society is pleased to start to promote our latest publication 'Maps for Empire' by A. Crispin Jewitt, 2nd edition. This will be published in March 2024, but is now available for pre-order at a reduced price.
The first edition of this book was published in 1992 and describes the first 2000 sequentially numbered maps or map series issued successively by the Intelligence Division, War Office (IDWO), the Topographical Section, General Staff (TSGS) and the Geographical Section, General Staff (GSGS).
Since the first edition was published considerable fresh information has become available, including material for which only vestigial information was previously known. An additional dimension is supplied by the plates being now in colour. Pre-order now by visiting our shop using this link.
The Society's presence on YouTube is ever expanding with over a dozen and a half videos for all to watch at your leisure. There are two playlists currently: firstly our recordings of our online meetings on various subjects, the other, our talks held at our online AGMs.                                      
 
Our online Zoom Meetings are continuing within The Society. Visit the page to see details of the next meet and recordings of previous meetings. This is an ideal way to stay in contact and share your interests.                                
 
And the online Map Covers Collection is continuing and expanding all the time. This is an ongoing project of collation, where Members have supplied variants of known Ordnance Survey map covers to make an online reference system. Its an ideal place to check an anomaly in your collection or a shop.
---
Have you got a question?
Are you currently doing research into a mapping or surveying related subject? Do you have a question about a specific map, a symbol on a map recent or old? Or are you curious as to something related to the Ordnance Survey?
If so, maybe this independent Discussion Group set up by CCS Members can help? Click here to visit and ask away. With over 100 subscribers currently, we can probably answer that question and supply further detail, to help you on your way.